Co-authored by Rebecca Kaden
Excess inventory is one of the worst-kept secrets in ecommerce. Brands overproduce more than $500B of goods annually. In categories like cosmetics, less than 50% of inventory is sold within a 12-month window.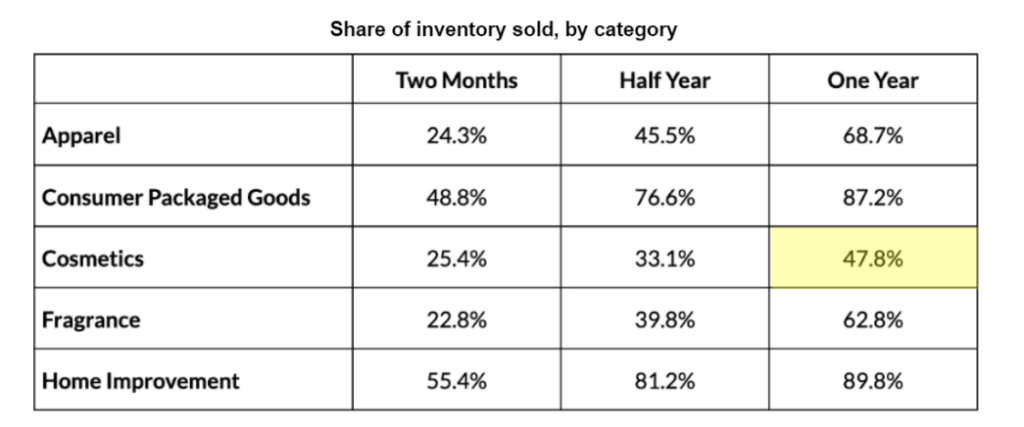 For the items that do sell, only 20 – 30% do so at full price. The remaining goods are discounted in-store, sold to off-price retailers, or all too often thrown away.
Unsold inventory comes at a cost to both balance sheet and brand. Rising logistics costs and expensive storage fees are a drain on profit margins. Returns and fractured supply chains have worsened this dynamic – products that arrive late or are returned out-of-season are no longer relevant to a full-price audience.
Liquidating inventory has risks too. Brands do not want to cannibalize their core, full-price customer segments or erode pricing power to move off-season merchandise. If incinerated, the environmental impacts of apparel destruction are astronomical too.
Modern brands need a release valve – a mechanism to move unsold inventory off their balance sheets and convert high quality products back into working capital.
Ghost helps brands and retailers discreetly and efficiently monetize their excess inventory.  Their permissioned marketplace brings together the top names in retail to buy, sell, and dynamically price unsold products.  The platform handles the messy backend too – Ghost automates the posting, sale, and shipment of unsold inventory while offering immediate payment to credit-worthy sellers.
One of the most exciting aspects of Ghost is the way the network becomes more efficient over time. As the long-tail of off-price buyers grows, retailers moving excess inventory gain access to an increasingly diversified base of potential offtakers. This means higher bids on inventory lots and a shorter turnaround time on sales. Companies looking to buy off-price merchandise similarly benefit – by ordering inventory on Ghost they can bring off-price customers a wider array of flagship merchandise faster, and sometimes from brands not previously available in their country or region.
The Ghost team has deep roots in ecommerce and retail logistics – and the reception from top brands has been astounding. Co-founders Josh Kaplan and Dee Murthy are serial entrepreneurs who have worked together numerous times before. Josh is the former CEO of DTC brands New Republic and Melrose Place. Dee founded the Five Four Group, a Los Angeles-based holding company which includes nearly seven DTC brands including the popular subscription box Menlo Club.
USV is thrilled to lead Ghost's Series A alongside a long list of supply chain game changers – including Flexport – and to partner with existing investors Equal Ventures and Eniac. Josh and Dee are building an incredible team that includes industry leaders in enterprise SaaS, data analytics, omnichannel retail, online marketplaces, and headless commerce. They're actively hiring across the company – check out opportunities to join their team here!