Co-authored by Hannah Murdoch
The language of commerce has always been visual.  Tiffany's published their Blue Book in 1845, the first direct-mail catalogue in the United States.  The publication distributed pages of the world's finest jewels to customers who couldn't reach their New York showroom.  
Sears perfected remote buying in the early 1900s. The Sears, Roebuck, and Co. mailer was filled with more than 500 pages of product sketches about items on sale at the 'cheapest supply house on earth'. Sears added colored images and seasonal editions as they grew, leaning on an emerging network of railroads, warehouses, and banks to move inventory nationwide.

As our infrastructure evolved, commerce did, too. Real-time transactions entered the home in the 1980s, as hosts on HSN and QVC used the power of personality and the gloss of television to reach millions of American households. A decade later came the world's first e-commerce transaction and the launch of retail giants like Amazon and Ebay. Scrolling down pages replaced rifling through racks. During the 2020 holiday season, two-thirds of US retail spend went through a digital channel.

Every digital transaction has one thing in common – visuals. Top-performing e-commerce sites display an average of 8 photos per item. Consumers are exposed to more content, more frequently than ever before – an average of 4 – 10k ads per day. In some cases, the product has become the image itself.

The high bar for content is especially tough for new and emerging brands. Many marketplaces offer poor discoverability and labels have been squeezed by rising paid acquisition costs. Even post-purchase, e-commerce margins are challenged by high return rates, often 2-3x that of brick-and-mortar retail. A main driver of returns? Nearly one-quarter mention the merchandise did not look like its photo. The message to retailers is clear – content is not only your marketing strategy, it's doing the work of floor displays, the dressing room, and the sales associate too.

soona is the first platform in the e-commerce stack for creating content. Their decentralized studio model helps customers plan a photoshoot, build a list of shots, and refresh professional visuals at low cost and high speed. Once images are published, soona can close the feedback loop about how well assets perform, helping brands cost-effectively update their content based on market reaction. For the first time, data about conversion, sharing, and engagement can be brought directly back into the creative process itself.

Without soona, the methods to create, produce, and quantify the impact of visual media are still lacking. Entrepreneurs must decide between options that are expensive (professional studios cost tens of thousands), time-consuming (become the expert yourself), or ineffective (use your phone). Many options are also slow – the average turnaround on professional media can be four to six weeks. Retailers drop new inventory on a faster cycle.

soona's magic is their software. Customers build a shoot on the soona platform, then ship their items using a prepaid label. soona intelligently routes the booking to the photographer in their national network that is the best fit for that particular piece of content. On the day of a shoot, clients join their photographer live from a remote location and provide direction during production. Edits and images are returned the following day. For many Shopify and Etsy sellers, soona is the first time they have used professional content for their store.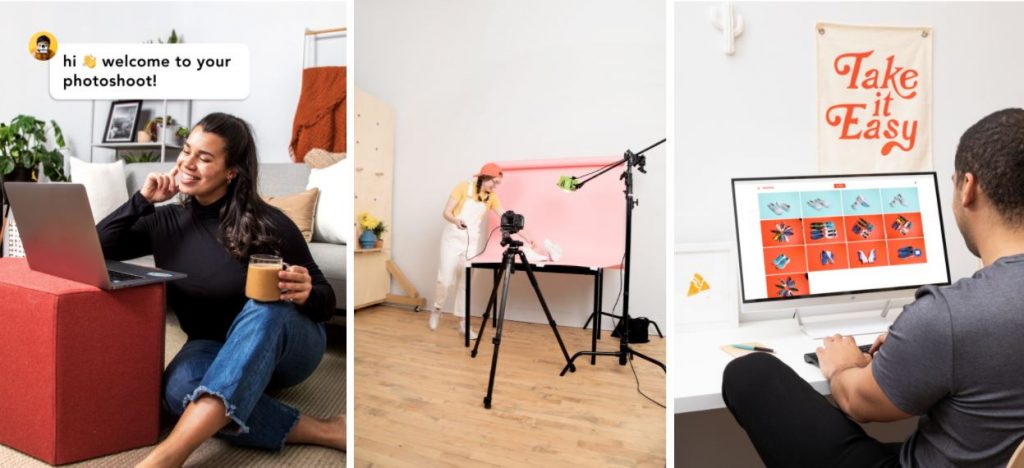 soona photographers specialize in categories like beauty, food, or pets. Photographers love soona because it provides guaranteed income as well as predictable client work. What Zoom has done for meetings soona has done for the creative industry – freeing up capacity and time to make work more flexible and increasingly remote.

Brands who try soona are hooked. Growth is largely organic and driven by high repeat use as customers return with fresh inventory and seasonal marketing needs. The team has a broad base of fans – Etsy sellers, emerging Shopify entrepreneurs, and growth-stage D2C brands are all soona loyalists. Creative agencies use the platform as well – outsourcing their production to increase volume and hasten turnaround time.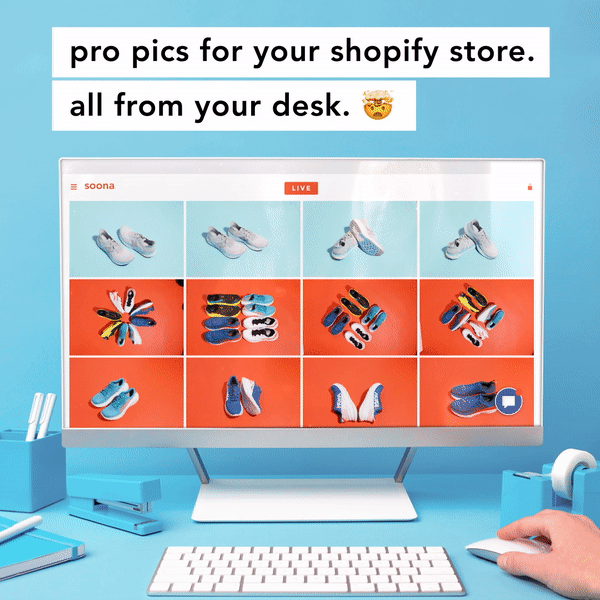 soona enables ecommerce brands to be successful, and in turn benefits from their growth. The platform provides feedback about when to use a hand model, include a prop that smells like the item, or add a gif that shows a product's application. Some independent entrepreneurs have grown their revenue 20x during their relationship with soona, increasing the number of items and complexity of content they shoot within the network.

The soona team brings together deep production experience and creative DNA with a data-driven mentality and analytical horsepower. Co-founders, Liz Giorgi and Hayley Anderson, are seasoned entrepreneurs. Liz is an Emmy-award winning editor and two-time media entrepreneur who bootstrapped Mighteor to an acquisition by Standard.tv. Hayley is a professional animator turned product designer who was named to Forbes 30 Under 30 Class of 2020.

We're thrilled to lead soona's Series A alongside existing investors 2048, Matchstick Ventures, Starting Line, and Techstars. We have long been believers in the intersection of humans and technology to create something better than either on their own. The soona team is committed to providing meaningful studio jobs while making quality content a superpower for brands of any size. We can't wait to see soona expand access to high-quality, custom media and help brands take-off in the process.