Diverse teams build better businesses1. 
To further support this statement, we have found that aggregating data from 100+ scaling tech companies helps many of them level up their internal processes and support levers. For example, in 2020 we saw that 80% of participating companies did not collect demographic data from their employees. In 2022, 62% of participating companies noted they do collect it.
In pursuit of data to further support our portfolio companies and the broader tech ecosystem with their diversity efforts, this January, we launched our 4th Annual Diversity, Equity and Inclusion Survey. This year's goal was to provide portfolio-wide benchmarks around leadership and board diversity representation, as well as understand where our portfolio could use some support.
We asked each participating company to share:
Representation of women and BIPOC on both the company's board as well as the leadership team
DEI internal support levers currently in place at each company
Ways USV can support its portfolio to help build more diverse companies 
Results
We received responses from 77 companies, ranging from Seed-stage with less than 5 employees up to public companies with a global footprint and employee base. Below are some key findings: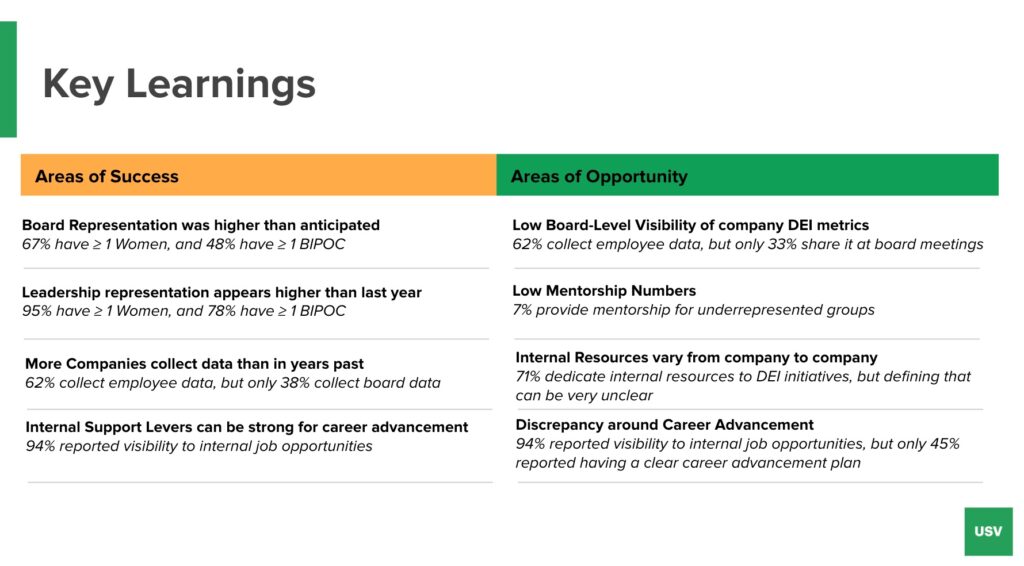 Ways USV Can Support Our Portfolio:
Encourage companies to share more metrics
Sharing metrics actually moves the needle on being able to get leadership buy-in and funding/resources needed for DEI efforts. In addition to sharing DEI metrics with their boards, teams should also share with other leaders at the company to advance their impact.
Provide More Resources for Internal Processes
Companies seem to have a broad definition for "dedicating resources to DEI initiatives". A good next step would be to understand to what extent internal support resources are actually dedicated. "Dedicated resources" should include either a team or a budget to bring in external consultants. 
Facilitate More Cross-Company Connectivity
Companies want more networking opportunities, resources and sharing of best practices. Our actions could be organizing conversations, introducing companies to each other, and creating a list of consultants and training partners.
DEI Benchmarks By Funding Round
Finally, last year we started to create a diagram of DEI Benchmarks based on funding round. In collaboration with CultureAmp, the below four categories summarize what most companies at each stage of funding are actively doing to support a more diverse and equitable environment. This year, we added on the horizontal layer of how USV, and other firms can directly make an impact.
USV's diversity, equity, and inclusion efforts are constantly developing and we are working on not only supporting our community but also making sure that we, as a firm, prioritize DEI on all fronts.  
1 https://www.mckinsey.com/featured-insights/diversity-and-inclusion/diversity-wins-how-inclusion-matters